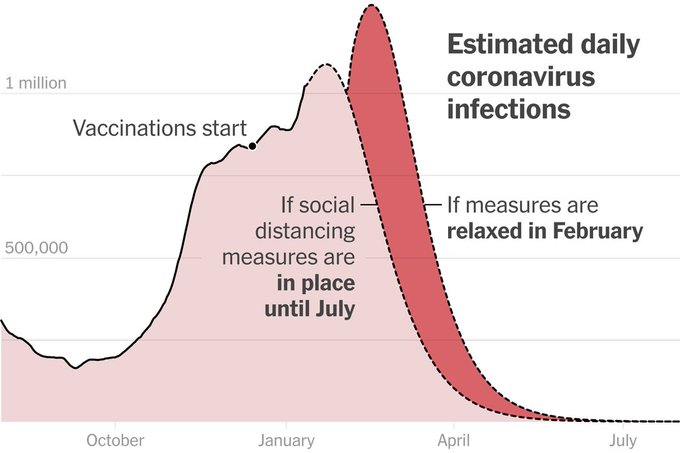 *** SELECT REGIONAL NEWS TUESDAY ***
Seattle Times: Washington state will soon get more COVID-19 vaccines, Inslee says
JOLT News: Thurston County officials provide detailed update on vaccinations
Associated Press: Washington considers open carry ban at demonstrations
JOLT News: Tell county officials via survey how to decide on issues and programs that support local farms and farmers
The Olympian: With just 5 jury trials in a year, Thurston courts feel the strain of COVID-19 delays – Thurston County Superior Court has extended its suspension of criminal jury trials through March.
Airliner Watch: Boeing commits to delivering commercial aircraft using 100% sustainable fuels
Inhabitat: Washington is the first U.S. state to hold a climate assembly
KING-5 TV: Washington hospital leaders worry of surge in cases from new COVID-19 variant
*** SELECT NATIONAL NEWS FROM TUESDAY ***
WaPo: Earth is now losing 1.2 trillion tons of ice each year. And it's going to get worse.
NYT's Stuart A. Thompson: Three Weeks Inside a Pro-Trump QAnon Chat Room
USA Today: Justice Department inspector general investigates whether staffers sought to improperly overturn 2020 election result [Ed. note: Now that the restrictions on the DOJ's IG are removed with Trump gone, the IG can do their job!]
McClatchey News: Trust in federal government on the pandemic soars after Biden inauguration, poll finds
Yahoo: Polls find Biden's approval rating higher than Trump's ever was
CNBC: Biden orders DOJ to end private prison contracts as part of racial equity push [and to limit the transfer of military equipment to police.]
McClatchey News: FDA puts all alcohol-based hand sanitizers from Mexico on 'import alert.' What that means
*** SELECT POLITICAL NEWS FROM TUESDAY ***
WaPo: Pentagon restricted commander of D.C. Guard ahead of Capitol riot
Bloomberg: Twitter Bans My Pillow CEO Who Insisted Trump Won the Election [My Pillow Inc. Chief Executive Officer Mike Lindell continued false claims about the vote in violation of Twitter's policy.]
WaPo: Why is it so hard to deprogram Trumpian conspiracy theorists? "No matter what happens, there's always another explanation."
WaPo: Giuliani wasn't just a Trump partisan but a shrewd marketer of vitamins, gold, lawsuit says
Politico: YouTube extends Trump suspension, slaps new restrictions on Giuliani
CNN: Democrats stunned by briefing on Capitol's security before insurrection: 'It was only by pure dumb luck' more weren't killed
McClatchey News: Congress asks Pentagon to restore military base construction funds from border wall