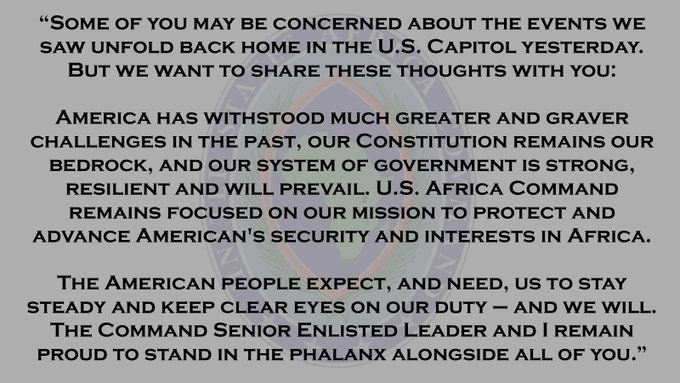 *** SELECT NATIONAL NEWS FROM JANUARY 6TH ***
CNBC: Pelosi and Schumer call for Trump's immediate removal from office for 'insurrection'
Common Dreams: Here Are the Names of Every Republican Who Voted to Overturn Election Results
CNBC: Trump for first time acknowledges new administration will take office Jan. 20 – has vowed never to concede to Biden
NYT: A Riot Amid a Pandemic: Did the Virus, Too, Storm the Capitol?
TODAY on NBC: Former Homeland Security secretary: 'Trump lit the match' for Capitol riot
CNBC: White House fires State Department official who said Trump is 'entirely unfit to remain in office'
NBC News: Simon & Schuster cancels Sen. Josh Hawley's book following Capitol violence
CNBC: Capitol Police chief resigning amid criticism over pro-Trump mob
CNBC: President Trump's business allies start to distance themselves from him after Capitol Hill riot
International Business Times: Facebook, Instagram Dump Trump: Mark Zuckerberg Claims Latest Posts Are 'Fundamentally Different'
MSNBC: Barr condemns Trump's conduct: A 'betrayal of his office and supporters'
MSNBC: Republicans boosted Trump's lies — now they're facing the consequences
Edward Snowden [about January 6th]: Never forget that the Freedom of the Press is the very first part of the Bill of Rights. If you're out on the street claiming to defend the Constitution, the way you do that is by protecting reporters, not attacking them. Even if you hate the media, anything less is un-American.
Axios: The Capitol siege's QAnon roots
Twitter: Photo circulating shows the correct 2018 protest against gun violence, instead of the citation of the photo being from the mob riot of January 6, 2020
Wall St. Journal Editorial Board: Donald Trump's Final Days – The best outcome would be for him to resign to spare the U.S. another impeachment fight. Quote:
"We know an act of grace by Mr. Trump isn't likely. In any case this week has probably finished him as a serious political figure. He has cost Republicans the House, the White House, and now the Senate. Worse, he has betrayed his loyal supporters by lying to them about the election and the ability of Congress and Mr. Pence to overturn it. He has refused to accept the basic bargain of democracy, which is to accept the result, win or lose.
"It is best for everyone, himself included, if he goes away quietly."