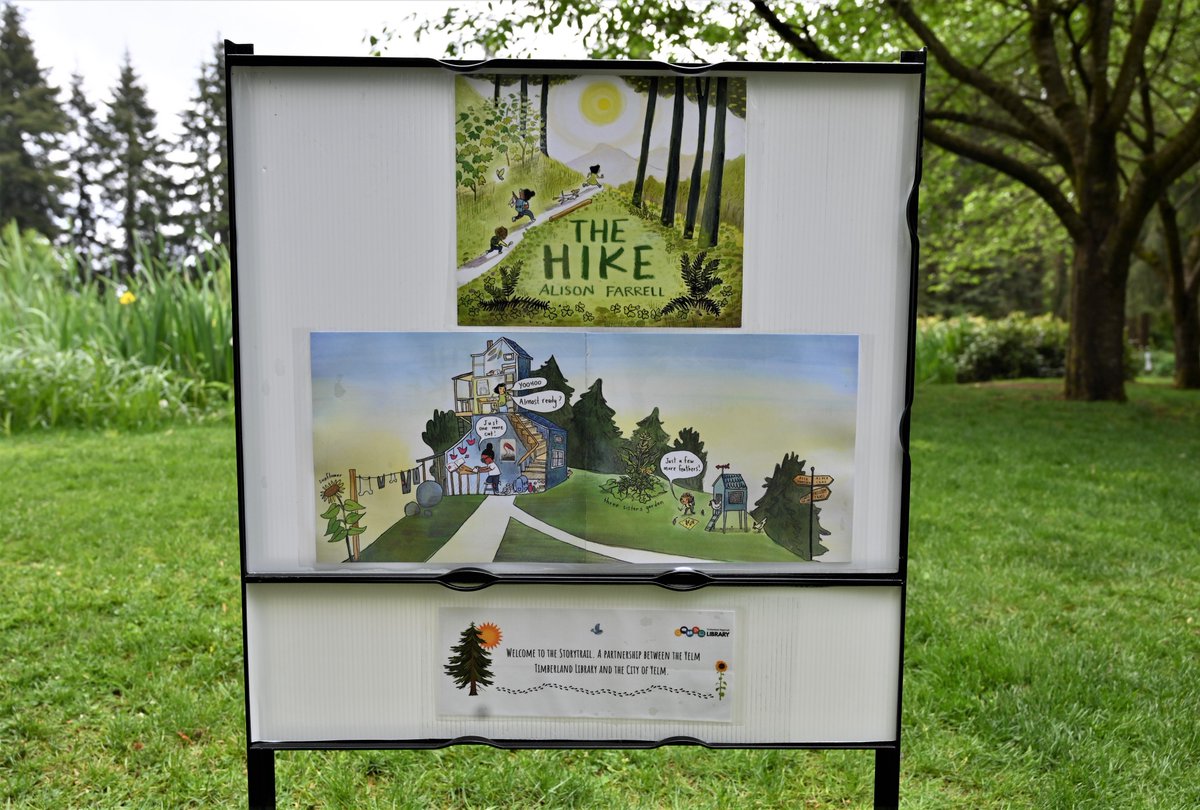 *** REGIONAL NEWS FROM MONDAY ***
+ City of Yelm: 'The Hike' by Alison Farrell has been placed on signs along the trail at Cochrane Memorial Park, so you can enjoy a nature walk and a great book at the same time.
+ The Olympian: Large caseloads and backlogs are stressing staff and delaying justice, prosecuting attorney says – If all new cases stopped, it still would take the Thurston County Prosecuting Attorney's Office close to a year to address their backlog, Jon Tunheim said.
+ The Chronicle [Centralia]: With Help From Business Leaders, Tenino Recovers Suspected Historic Tono Coal Carts
+ VoteWA: Yelm School Board candidate Juan S. Casiblanco withdrew, leaving both school board director posts uncontested. [Ed. note: This is very sad!]
+ Associated Press: Amtrak restores service on routes following COVID cutbacks – including Olympia daily frequencies on the Coast Starlight, plus additional frequencies on Amtrak Cascades.
*** NATIONAL NEWS FROM MONDAY ***
The Washington Post: It is painful to remember George Floyd's murder. But forgetting would be a sin.
NBC News: Biden increases funding to prepare for extreme weather events ahead of hurricane season
NBC News: U.S. intel report identified 3 Wuhan lab researchers who fell ill in November 2019
NBC News: U.S. still hasn't ruled out lab accident origin for Covid because China hasn't been transparent
Truthout: Restaurant Workers Say They Won't Return to Work Without a Living Wage
The Points Guy: Belarus diverts flight: 4 ways to plan for an emergency while traveling
U.S. prominent law professors: Letter to Congressional Leaders on Constituionality of Statehood for Washington D.C. May 22 2021
Associated Press: US warns against all travel to Japan as Olympics loom
Bloomberg: World's supply of chips is in danger unless Taiwan gets vaccines
*** TRUMP NEWS FROM MONDAY ***
CNN: Ex-WH counsel McGahn agrees to testify before House Judiciary Committee behind closed doors next week
CNBC: Trump impeachment witness Gordon Sondland sues Mike Pompeo for legal fees
Hill Reporter: Newly Unredacted Mueller Report Details Manafort's Lies About Russians
Reuters: U.S. Justice Department appeals order faulting former U.S. Attorney General Barr
MSNBC's The Beat with Ari Melber: 'Trifecta of trouble for Trump': 3 witnesses drop 'significant criminal exposure' bomb – Trump's former personal attorney Michael Cohen, Melania Trump's former advisor Stephanie Winston Wolkoff, and the daughter-in-law of the Trump Organization's CFO Jennifer Weisselberg provide an inside look into the ongoing criminal probe into the Trump Organization and the inner-workings of the company.
Business Insider: 4 years after a man's rushed execution, new tests find someone else's DNA on the murder weapon – Supreme Court Trump-appointee Neil Gorsuch cast the deciding vote with his first recorded vote as a justice on the high court. The Court voted 5-4 to allow an Arkansas execution as the state's lethal injection drugs were set to expire, even though the defendant's attorney was seeking DNA testing of the murder weapon.