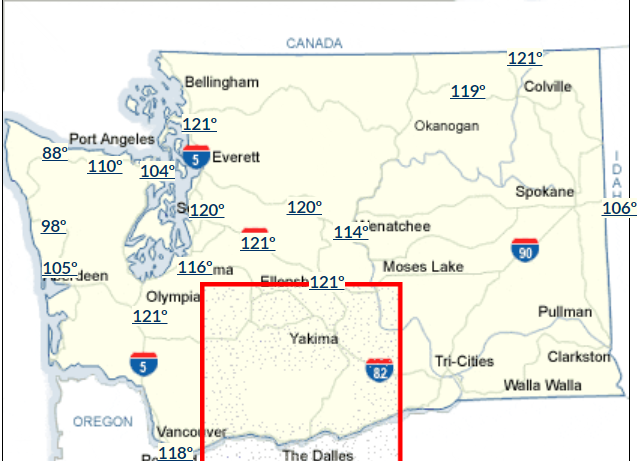 *** REGIONAL NEWS FROM MONDAY ***
+ The Olympian: Yelm's Timberland library re-opens today as a local cooling center, joining Yelm's Senior Center
+ The Olympian: Olympia's all-time record high of 110 degrees on June 28th broke the previous record high of 105 degrees, set June 27, 2021.
+ KING-5 TV: It's unlikely Washington will have another extreme heat wave this summer
+ NBC News: Pacific Northwest has one of the most intense heat waves ever
+ Thurston County Auditor: Logic & Accuracy Test ahead of the August 3 Primary Election; Seeks Observers
+ Thurston Talk: City of Yelm Re-Organizes to Streamline Services in Preparation for Retirement of Long-Time Employee
+ The Olympian: Thurston commissioners continue to debate major property expansion
+ San Antonio Express News: GIs, families celebrate a pandemic milestone at San Antonio's Fort Sam Houston – Yelm's Pvt. Adrian Cisneros honored as 1 of 13 grads [Ed. note: Congratulations to Pvt. Cisneros!]
+ The Olympian: Thurston County bans discharge of consumer fireworks this July 4 – where you can watch allowed fireworks
+ Airliner Watch: Boeing 777X won't get approval from FAA before mid-2023 [Ed. note: This is another blow to this aircraft's development.]
+ The Washington Post via MSN: Canada sets record temperature of almost 116 degrees amid heat wave, forecasts of even hotter weather [recorded in Lytton, B.C. just 1 degree shy of Las Vegas' hottest temperature on record and hotter than the all-time record highs for 31 states, including several in the South.]
*** NATIONAL NEWS FROM MONDAY ***
Truthout: GOP Congressional Candidate Used Campaign Funds to Take Part in Capitol Breach
NBC News: Collapsed Florida building residents told it was safe, despite 'major structural damage'
NBC News: Clarence Thomas says federal laws against marijuana may no longer be necessary
Truthout: As Delta Variant Spreads, WHO Urges Masks and Social Distancing
*** TRUMP NEWS FROM MONDAY ***
The Wall Street Journal: Trump Organization Lawyers Make Last-Ditch Effort to Avoid New York Charges
Politico: Trump lawyer: Manhattan DA won't charge former president – Cy Vance's team plans to bring narrowly focused charges in its probe of the Trump Organization, Ron Fischetti claims.
Business Insider: Trump Organization executives can't stomach prison time and may flip if faced with criminal charges, former EVP says
Mother Jones: Documents Show Ivanka Trump Didn't Testify Accurately in Inauguration Scandal Case – She said she played no role in planning inaugural events. These records suggest otherwise.
James D. Zirin, a former federal prosecutor: Trump is suing New York over a golf course. That could be a big mistake. Litigation was the former president's way of doing business for decades, but now he has criminal exposure to consider
Rachel Maddow Blog: Bill Barr corrupted the Justice Department, but not quite enough for Donald Trump. In this story, there are no heroes. Quoting this important observation in the story, "All of this is notable as a matter of understanding the details of what transpired, but I have a follow-up question: why was the Senate Republicans' leader [McConnell] discussing partisan election strategies with the then-attorney general?"
HuffPost: 'Utterly Deranged' Trump Has Full Meltdown Over Bill Barr, Mitch McConnell – The former president attacked the two key figures who enabled his agenda, calling them "spineless RINOs."