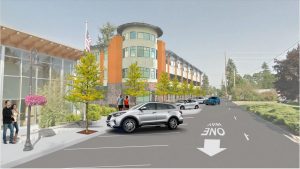 Associate Planner Tami Merriman leaves Yelm
Tami Merriman has left the City of Yelm Planning Dept. for an opportunity with the City of Tumwater. Her former position in Yelm is open and the city is accepting applications – job description here.
Editor's note: I acknowledge Tami for decades of service to the Yelm community. Tami always had a welcoming, open-door policy and was very warm and up-front about the city's planning issues. Tami was a "rock" during tumultuous changes in city leadership the last 2+ decades, and one who always maintained responsibility, persistence, and consistency. She leaves immense shoes to fill and will be greatly missed. Congratulations and best wishes, Tami!
The NVN reported that Community Development Dir. Grant Beck set to retire at the end of next month as the City of Yelm Restructures Multiple Departments Following Retirement
Yelm is losing almost 5 decades of combined historical planning perspectives, which will take years to replicate. With a new mayor to be elected this Autumn, plus the potential of 5 council seats being replaced (If Joe DePinto is elected mayor, his council seat will be the 5th subsequently filled), city management will be the platform for younger people with new ideas and vision.