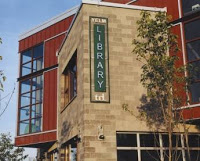 Ed. note: The Yelm council took a look last year at the Yelm Library's exorbitant expenses, to no avail to-date.
On June 12, 2012, Yelm councilors approved the library condo purchase
After Mayor Harding announced to the public the City of Yelm could only afford up to $600,000 to purchase a new library building, he presented a plan April 27, 2011 to the Timberland Regional Library (TRL) Board to purchase the leased Yelm library facility for $1.2 million in a unique condo-deal. The Fay Fuller building's owner was Prairie Park's Margaret Clapp, who gifted a $200,000 reduction off of her list price in offering to sell the 2nd floor condo to the city for $1 million as a city-owned library structure.
+ On June 12, 2012, Yelm's City Council voted unanimously to buy the library condo in Prairie Park for $1 million, plus O&M expenses and interest on the bond. This occurred as The Great Recession had gripped the city, previously forcing council to defer maintenance and upgrades to the Public Works Department's water/sewer systems [in 2009], from which Yelm remains under duress to this day. The sordid history of that purchase all without public input, was published here
+ Yelm's council approved a total bond for $2.275 million, because they added an additional $1 million to the library bond for other capital improvements including a community center, citing low interest rate provisions. This was done without any public input. Then-council members Foster and Wood, still in Yelm government today, voted for this outlandish condo purchase and O&M contract, and in bypassing the public.
A documentation of the Yelm library Condo expenses
+ The library's full two-year (biennium) operations budget was $25,000, but the unexpected repairs cost the city $50,000, doubling those expenses in the middle of the budget biennium, as the NVN's Eric Rosane reported.
+ The price for the Prairie Park facility was $1.2 million for 8,962 square feet = $134 for a square foot ($112 per square foot, after subtracting Margaret Clapp's $200,000 price reduction). Many other properties were available for a far less price per square foot, however Harding nixed them all, only focusing on Clapp's building.
+ The Yelm Community Blog covered on January 5, 2016, the library "condo" expenses story: Library Bldg. Condo Assn Fees within City of Yelm Budget – Not publicly disclosed previously and via a Public Documents Request, then reported "the association dues for Fay Fuller Condominium Association" as follows:
2015 $ 28,928.86
2014 $ 15,785.28
2013 $ 15,785.28
2012 $ 3,946.32
+ In July 2020, this blogger reported, "The General Government Committee is leading the charge on how to proceed and have had talks with the library executive about reviewing the contract and foundational documents." Yelm Library "condo" contract scrutinized by council, as options to reduce outrageous contract expenses are sought!
+ The Nisqually Valley News reported on council member Joe DePinto's notification to the mayor, city administrator and council that he was moving forward on council's long-desire to seek an alternative to the City of Yelm owned "condo" with the outrageous Operations & Maintenance (O&M) contract having a major impact on the city's budget.
With 11 years to go on the 20 year condo loan and O&M expenses, the city has not moved forward to do anything further about the library's impact on the city's budget. Perhaps the new mayor will take this on in 2022!