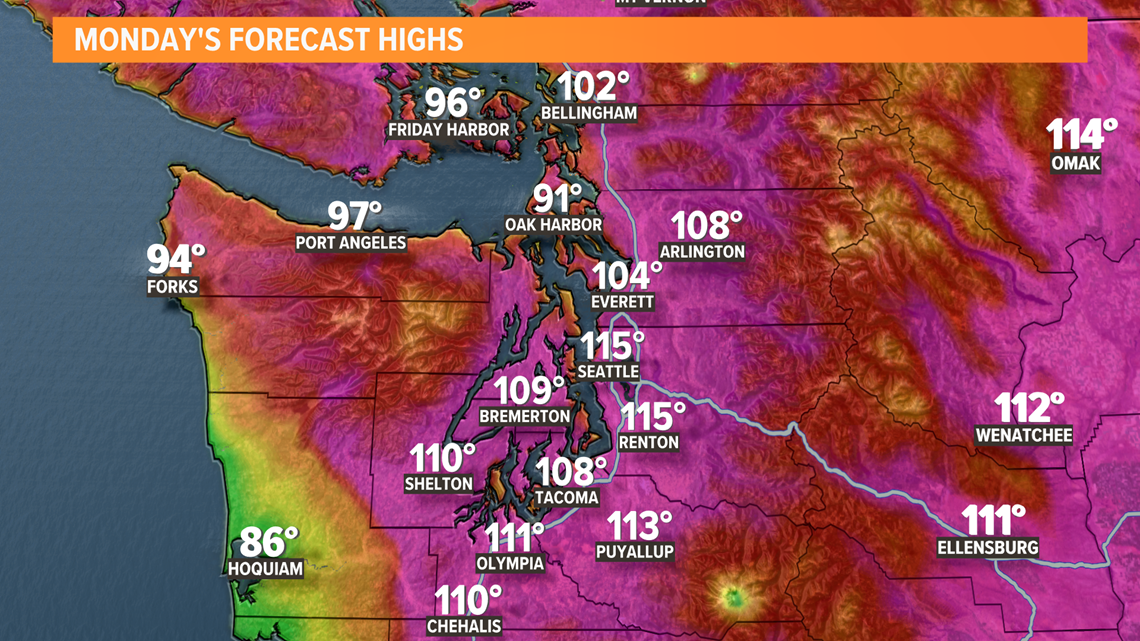 *** REGIONAL NEWS LAST WEEKEND ***
+ City of Yelm: Yelm Senior Center opens cooling center for public and pets!
+ KING-5 TV: Know the signs of heat illness and take steps to prevent dehydration as it heats up in Washington – Dizziness, nausea, headaches and muscle cramps are all signs of heat illness.
+ The Olympian: Here's how hot it got in Western Washington Sunday. And it's supposed to be hotter Monday – Oly hit a record 105!
+ KING-5 TV News: Heat wave timeline: Western Washington sees hottest June day on record – Sunday also marked one of the first times in the state's climate record that Sea-Tac had two consecutive days above 100 degrees, including records that date back to 1894.
+The News Tribune (Tacoma) via MSN: When will the heat wave in Western Washington end? Monday night
+ KING-5 TV: Here's how rapidly your car heats up in the sun
+ McClatchy News: Why is it taking so long to get relief money to renters? Thurston County has distributed $4.1 of its $25 million of federal rent assistance. More state money is on the way.
+ The Olympian: Organizers cancel Capital Lakefair for second straight year – Organizers say they will try again in 2022.
+ KING-5 TV: How to build your own DIY air conditioner
*** NATIONAL NEWS LAST WEEKEND ***
Stundin: Key witness in Assange case admits to lies in indictment – A maj­or wit­n­ess in the United States' Depart­ment of Justice ca­se against Ju­li­an Assange has admitted to fabricat­ing key accusati­ons in the indict­ment against the Wiki­leaks found­er. [Ed. note: To quote Edward Snowden: "This is the end of the case against Julian Assange."]
The Washington Post: 2 secretaries of state undercut Trump's fraud claims in key, GOP-controlled states. Republicans have now voted to strip both of power.
MSNBC Opinions: Why DOJ's Georgia election lawsuit is a warning shot to SCOTUS – AG Garland intends to use the what's left of the Voting Rights Act to the full extent possible.
Prism: Organizers Are Calling on Congress to Close Loophole That Enables Prison Slavery
Sludge: Biden Plans to Enact Trump Rule Allowing Drug Companies to Price Gouge on Life-Saving Treatments
*** TRUMP NEWS LAST WEEKEND ***
+ The Atlantic: Inside William Barr's Breakup With Trump – In the final months of the administration, the doggedly loyal attorney general finally had enough. "Donald Trump is a man consumed with grievance against people he believes have betrayed him, but few betrayals have enraged him more than what his attorney general did to him. To Trump, the unkindest cut of all was when William Barr stepped forward and declared that there had been no widespread fraud in the 2020 election, just as the president was trying to overturn Joe Biden's victory by claiming that the election had been stolen."
+ MSNBC Opinions: Why Giuliani's suspension is bad news for Trump's legal team
+ The Daily Kos: Trump aides drafted Insurrection Act proclamation to deploy military against D.C. protests last June
+ The Daily Kos: Trump encouraged white supremacists to join Jan. 6 event, then his team helped them hide from police
+ The Daily Kos: Likely Trump Org indictment could mean big trouble for Trump hotels, liquor licenses
+ Vanity Fair (From June 2017, instructive today): How Donald Trump and Roy Cohn's Ruthless Symbiosis Changed America – In 1973, a brash young would-be developer from Queens met one of New York's premier power brokers: Roy Cohn, whose name is still synonymous with the rise of McCarthyism and its dark political arts. With the ruthless attorney as a guide, Trump propelled himself into the city's power circles and learned many of the tactics that would inexplicably lead him to the White House years later.