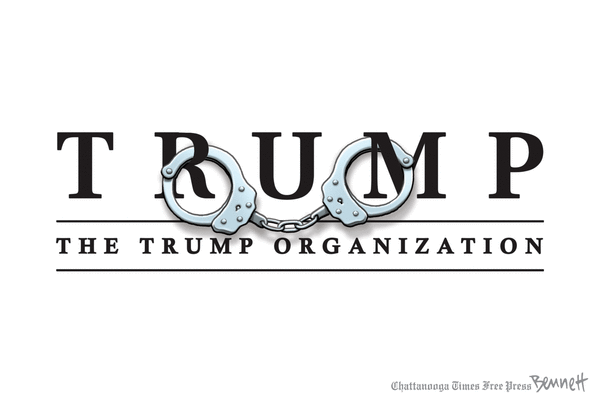 *** TRUMP NEWS FROM THURSDAY ***
* Editor's note: Donald Trump is the first President to be impeached twice and now the first to have his own company criminally indicted and the company's CFO. Add these to the long list of other Trump associates who have been indicted, i.e. Manafort, Flynn, Stone, etc..
+ NBC News: Trump Organization CFO Allen Weisselberg pleaded not guilty to tax charges
+ CNN: Prosecutors charge Trump Organization with a 15-year tax scheme
"As important as the relevant details are, it's worth pausing to appreciate the bigger picture. Trump's "university" was exposed by law enforcement as a fraudulent operation. His 2016 political operation saw many of its top leaders convicted of felonies. His inaugural committee faced criminal probe. His charity was also exposed as a fraudulent operation. He's currently facing criminal investigations in two states.
"And now, Trump's core business has been indicted, too," quoting CNN.
+ NBC News: McCarthy threatens committee seats if Republicans accept Pelosi appointment to Jan. 6 panel – Only two Republicans joined all Democrats in approving the new panel to probe the attack. [Ed. note: The Republicans must really be concerned some in their midst will be implicated to be so resistant to look into Jan. 6th's insurrection.]
+ Politico: Trump Organization faces potential business risk over indictments
+ MSNBC's Morning Joe: Trump is in the 4 worst Presidents of all time: Only Franklin Pierce, Andrew Johnson, and James Buchanan are worst.
+ NBC News: 'There's just no legal defense': Trump Organization in jeopardy, experts say
+ The Washington Post: As prosecutors indict the Trump Organization, Trump indicts himself – "No grand jury could return an indictment worse than the one Trump returned against himself Thursday."
+ Business Insider: Michael Cohen says the Trump Organization's CFO should cooperate with prosecutors now that he 'knows what handcuffs feel like'