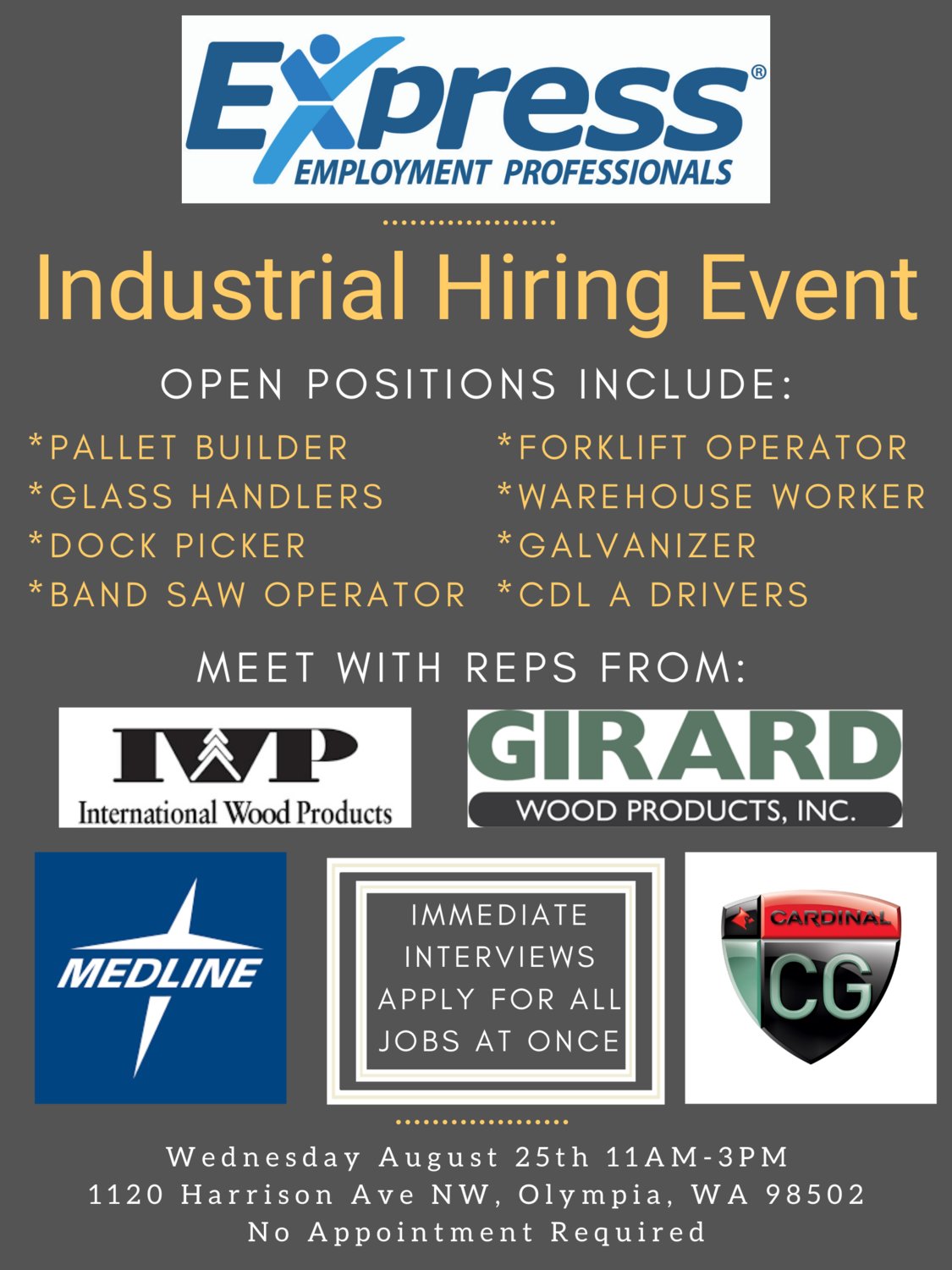 *** REGIONAL NEWS FROM MONDAY ***
+ JOLT News: Industrial Hiring Event August 25 -65 positions to fill for 46 different Thurston County employers
+ Mark King, fire chief, and Jonathan A. Sprouffske, chair of the Board of Fire Commissioners: Thank you to the residents of southeast Thurston County (Yelm and Rainier) for continuing to support our community. 
+ JOLT News: City of Lacey declares Arbor Month – Mayor to donate one of his own trees to Yelm
+ The Weather Channel: No rain in the forecast for the rest of the month – today marks 70 consecutive days without measurable precip. – the previous record was 55 days set in 1960 and broken last week.
+ Global Newswire: Harbor Custom Development, Inc. Contracts to Purchase 75 Unit Permitted Condominium Site in Yelm, Washington for $3,325,000
+ The Olympian: Father and son combo highlights defending 3A SSC champion Yelm's depth
+ South Sound News: Study: Washington Unemployment Claims More Than 75 Percent Lower Than Last Year
+ The Chronicle (Centralia): Commentary by Don Brunell: We Must Stop and Rethink Washington State's Long-Term Care Law
*** VIRUS NEWS FROM MONDAY ***
Truthout: Pfizer Vaccine Gets Full FDA Approval, Potentially Triggering Mandates
AP via Bloomberg: Pentagon to Mandate Covid-19 Vaccines After Pfizer Wins FDA Approval
The BMJ (British Medical Journal): FDA granted full approval to Pfizer vaccine without public discussion of data
Orlando Sentinel: CDC issues warning to not cruise to those at high-risk whether vaccinated or not
NBC News: Jesse Jackson and wife, Jacqueline, 'responding positively' to Covid-19 treatment – they were vaccinated last January
*** NATIONAL NEWS FROM MONDAY ***
The New York Daily News: Rachel Maddow and MSNBC reach multiyear deal to keep top-rated host at the network: report
McClatchy News: Democrats are trying to sell Biden's agenda. But key voters aren't paying attention
AP via The LA Times: Pop-up restaurants may stick around as COVID sees resurgence
*** TRUMP NEWS FROM MONDAY ***
The Washington Post: Giuliani associate Igor Fruman expected to plead guilty in campaign-finance case [Ed. note: Another worry for Trump world if Fruman cooperates with the Prosecutor!]
MSNBC's Andrea Mitchell Reports: Fmr. Pence aide: Visa system for Afghan allies 'destroyed' under Trump
Business Insider: The January 6 committee are seeking phone, email, and text records from 'several hundred people' for Capitol riot probe, including members of Congress