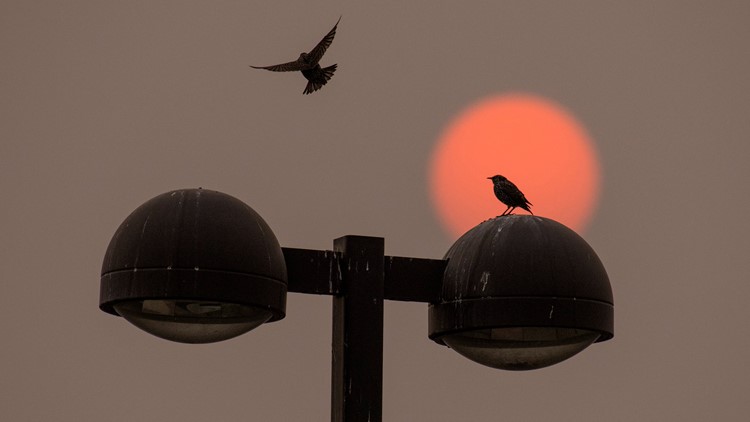 *** REGIONAL NEWS FROM THE WEEKEND ***
+ KING-5 TV: Wildfire smoke linked to a rise of COVID-19 cases in Washington during 2020, Harvard study finds
+ KING-5 TV: 'I don't consent': State, health care workers protest new vaccine mandate
+ KING-5 TV: U.S. Senators call for transparency over how [Seattle-based] Amazon is storing customers' palm print information
+ The Chronicle (Centralia) via Yahoo News: Mount Rainier National Park Considering Shuttles Along Nisqually Corridor
+ The Olympian via The Chronicle (Centralia): Are You Ready to Pay a Tax in Thurston County to Support Low-Income Housing?
*** NATIONAL NEWS FROM THE WEEKEND ***
CNBC: Consumer sentiment measure falls to pandemic-era low, sees one of largest drops on record
Associated Press: July was the globe's hottest month on record, NOAA says [Ed. note: While humanity yawns!]
KING-5 TV: 'In this case first place is the worst place to be' | July 2021 hottest month on record
TK News by Matt Taibbi: The Vanishing Legacy of Barack Obama – On the road from stirring symbol of hope and change to the Fat Elvis of neoliberalism, birthday-partying Barack Obama sold us all out
The New York Times via US News: CDC Now Says Vaccinated Should Be Tested After COVID Exposure, Even Without Symptoms
NBC News: Heat waves, wildfires & drought: How this summer is a 'preview' of Earth's coming climate crisis
*** VIRUS NEWS FROM THE WEEKEND ***
CNBC: Everybody will someday 'likely' need a booster shot of the Covid vaccines, epidemiologist says
House Foreign Affairs Committee: Outlines evidence that points to the Wuhan Institute of Virology (WIV) as the source of the [COVID-19] outbreak, and outlines some of the many steps researchers at the WIV along with Peter Daszak of EcoHealth Alliance took to cover up the research being done there. Click here for the report.
*** TRUMP NEWS FROM THE WEEKEND ***
Newsweek: Lindsey Graham Warns Trump That Jan. 6 Riot May Be His 'Political Obituary'
Business Insider: Former FBI deputy director Andrew McCabe says Trump is 'threatening members of law enforcement' in targeting officer who killed Capitol rioter Ashli Babbitt
Newsweek: Mary Trump Says GOP 'Voter Suppression Laws' May 'Convince' Donald Trump to Run in 2024
Salon: Mary Trump: Mitch McConnell is "the greatest traitor to this country since Robert E. Lee" – The difference between the two men? "McConnell has been trying to take our country down from within," Trump says
The Sunday Times (UK): Mary Trump on why she's suing her Uncle Donald – The former president's niece on her 'malignantly dysfunctional' family — and why she thinks his kids could turn on him
ProPublica: Trump's Tax Cut Helped 82 Ultrawealthy Households Save More Than $1 Billion
The Daily Beast: This Pro-Trump Lawyer Was a Rising 'Stop the Steal' Star. His Firm Erased Him