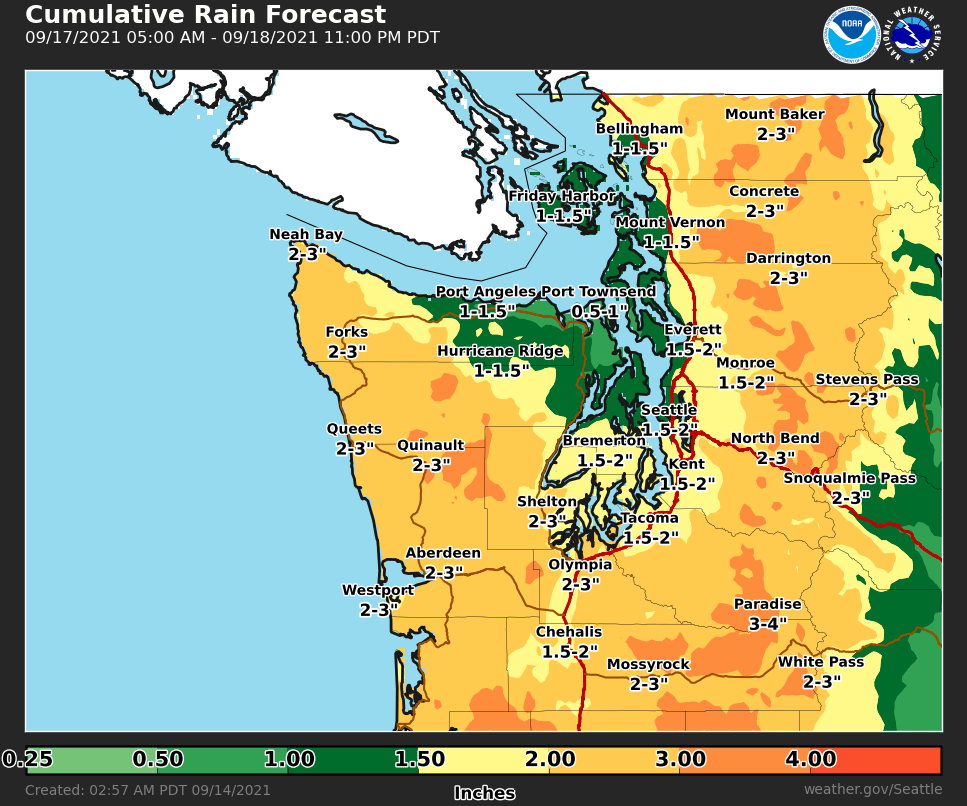 *** REGIONAL NEWS FROM TUESDAY ***
+ Patch: 2 Inches Of Rain In 2 Days: Puget Sound Forecast – more rain between Friday morning and Saturday night than the region has seen in the last three months combined.
+ The Olympian: The DuPont Gate at JBLM is scheduled to be closed to inbound traffic for three weeks
+ KING-5 TV: Thousands of state workers seek exemptions to Washington vaccine mandate
+ The Seattle Times: Idaho's COVID crisis becomes Washington hospitals' problem
+ The Olympian: Thurston County breaks record for number of new COVID-19 cases in a week
+ KING-5 TV: Heavy rain, mountain snow expected this weekend in western Washington
+ NVN: Thurston County Deputy Stabbed by Sex Offender in Yelm Returns Home
+ NBC News: 'A matter of life and death': Army says active duty soldiers must be vaccinated by Dec. 15
+ CNBC: Amazon plans to hire another 125,000 employees, paying them an average of $18 per hour
+ CNBC: Despite pandemic pause, demand for new airplanes will swell in next two decades, Boeing says
*** NATIONAL NEWS FROM TUESDAY ***
NBC News: Americans' views on global warming haven't changed. They're an outlier, survey shows.
The Guardian (UK): FBI director faces new scrutiny over investigation of Brett Kavanaugh
*** VIRUS NEWS FROM TUESDAY ***
Daily Mail: US 'funded Wuhan virus lab's research to make diseases more deadly'
Newsweek: Judge Issues Temporary Restraining Order Against New York Governor Over Vaccine Mandates
*** TRUMP NEWS FROM TUESDAY ***
MSNBC's Maddow Blog: George W. Bush condemns 'violent extremists,' Trump pushes back – What does it say about Donald Trump that every time he hears condemnations of hatred and extremism, he instinctively assumes he's the target?
The Washington Post: All of this to keep Trump from getting upset
CNN: Trump secret memo ordering withdrawal from Afghanistan blindsided national security team: New Woodward/Costa book
NY Daily News: Trump barred by generals from ordering nuclear strike or military attack in final days: Woodward
Business Insider: Then-CIA director Gina Haspel said the US was 'on the way to a right-wing coup' after Trump lost the election: book
Business Insider: The top US general 'was certain that Trump had gone into a serious mental decline' after the 2020 election, book says
The Hill: Woodward book: Quayle advised Pence he had 'no flexibility' in overturning election
The Week: Newly revealed emails add to 'growing body of evidence' that Trump was aware of coronavirus threat early on
CNN: Opinion: The Trump brand of politics is spreading around the world