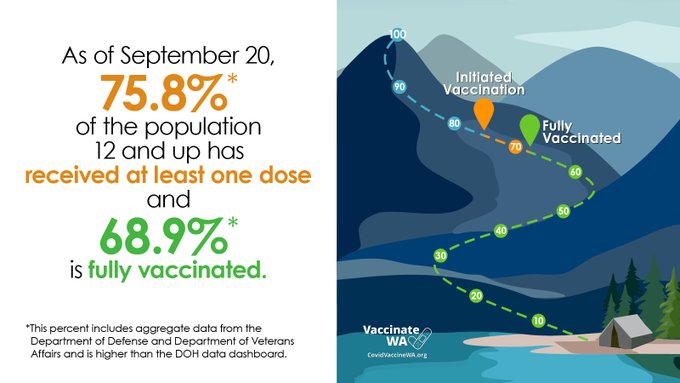 *** REGIONAL NEWS FROM TUESDAY ***
+ KING-5 TV: Nearly 69% of Washington residents are fully vaccinated
+ The Olympian: Over the past week, the county [Thurston] finally passed its goal to initiate vaccinations in at least 70% of residents 16 and older.
+ KING-5 TV: Extension of US border closure brings more 'frustration,' Washington congress member says
+ Yelm's Rosemont: Join Prestige Senior Living for a Free Webinar on Brain Health and Cognitive Aging, September 28 at 10:30 a.m, RSVP required
+ NVN Letter to the Editor: By Tracy Connally and Andrew Barben, Connally Finishes, LLC, about their water tower paint job
+ The Olympian: Lawsuits claiming 2020 ballots were manipulated come to WA [Ed. note: why is this not a surprise!]
+ NVN: Yelm City Council Position Four Candidates Prepare for November General Election
+ The Olympian: The Washington University School of Medicine uses an algorithm with a person's age and brain scan to predict the onslaught of dementia
+ The Olympian: With more wet weather on the way, Washington state officials start lifting burn bans
+ NVN: Yelm Community Schools Strikes Three-Year Deal With Union
+ NVN: First Annual Harvest Festival Set to Take Place This Saturday at Yelm City Park
+ The Washington Post: Jeff Bezos pledges $1 billion to protect 30 percent of the Earth's land and sea – Bezos's large donations are transforming climate philanthropy — even as Amazon's cloud-computing business and shipping operations have a significant carbon footprint
*** NATIONAL NEWS FROM TUESDAY ***
The Olympian: Supreme Court sets arguments in big abortion case – The Supreme Court will hear arguments on December 1 in Mississippi's bid to have the landmark Roe v. Wade decision guaranteeing a woman's right to an abortion overturned.
CNBC: U.S. DOJ, several states file antitrust lawsuit against American Airlines, JetBlue over alliance
Salon: GOP Senate Candidate Threatens Preemptive Lawsuits 14 Months Before Election
*** TRUMP NEWS FROM TUESDAY ***
The New York Times via The Hill: Donald Trump's campaign knew days after the 2020 election that wild claims about voting machine tampering were not true, court filings show.
WSJ: Trump Looks for Challenger to Depose Mitch McConnell as Split Widens – GOP's most influential figure and its top elected official are divided on policy, politics and who should lead the party in the future
Truthout: Memo Uncovered Showing Trump's 6-Step Plan for Pence to Overturn the Election
The Hill: Trump sues NYT, Mary Trump over story on tax history
The Washington Post: Huge hack reveals embarrassing details of who's behind Proud Boys and other far-right websites