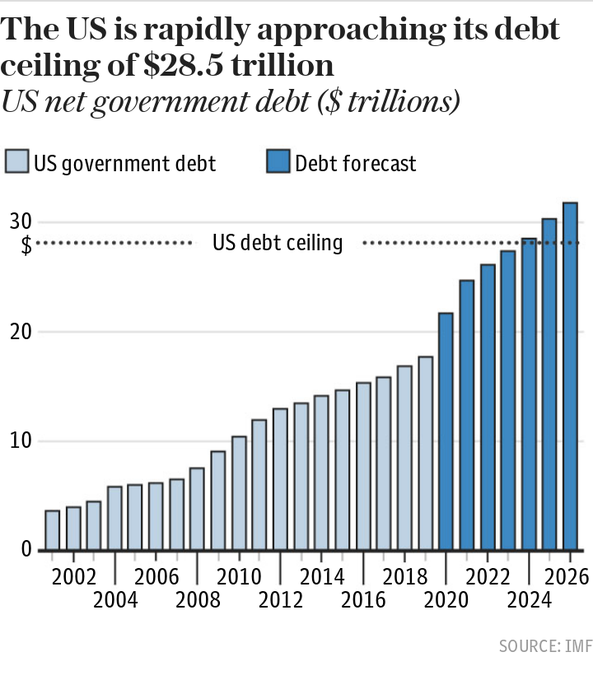 *** REGIONAL NEWS FROM WEDNESDAY ***
+ KING-5 TV: 'It's frustrating': Hundreds of Washington workers could lose jobs despite having vaccine exemptions – More than 1,700 employees who were granted COVID-19 vaccine exemptions could lose their jobs because agencies cannot accommodate them with non-public positions.
+ Yelm High School: Bounty for Families Launches 'LEARNERS WITHOUT LIMITS' to Support Students
+ South Sound Business: CERB to Invest Over $10M in Rural County Projects [i.e. rural broadband projects in Thurston County]
+ KING-5 TV: Proposed changes to Washington state's Congressional districts released
*** NATIONAL NEWS FROM WEDNESDAY ***
The Telegraph (UK): Is the US going to run out of money? Washington has just 19 days to reach a deal or face a US government shutdown
CNBC: Nearly 600 United Airlines employees face termination for failing to comply with vaccine mandate
KING-5 TV: 'Blah, blah, blah': Greta Thunberg ridicules leaders on climate change, mocks 'Build Back Better' plan
Mediaite: 'I Emailed You Months Ago': Reporter Fumes at Psaki Trying to Stonewall Her on an Assange Story She's Long Pursued
NBC News: Migrants returned to Mexico describe horror of kidnappings, torture, rape
For the Refugees: FINALLY! After five years of waiting, four of the Snowden refugees are on a plane to Canada, and will start their new lives as Canadians today.
National Post: (Canada): Refugee family that helped hide Edward Snowden in Hong Kong arrives in Canada – The Sri Lankan family were admitted half a decade after they first applied for asylum in this country
*** VIRUS NEWS FROM WEDNESDAY ***
The Wrap: YouTube to Ban Prominent Vaccine Skeptics, Including Robert F Kennedy Jr and Dr. Joseph Mercola
*** TRUMP NEWS FROM WEDNESDAY ***
NBC News: Jan. 6 committee subpoenas rally organizers, Trump allies – The panel demands that they give their sworn depositions on varying dates from late October to early November.
Truthout: Trump Planning Lawsuit to Block January 6 Committee From Getting His Records
Daily Kos: One week after details of Trump's plan to overthrow America were revealed, the press is silent
Daily Kos: Emails find Trump trio planned to sell veterans' patient data for 'hundreds of millions of revenues'
MSNBC's Maddow Blog: In court case, Giuliani shed new light on the Big Lie's origins – Rudy Giuliani confirmed under oath that when he peddled election conspiracy theories, he didn't check to learn whether they were true.
MSNBC's Opinions: Trump had 'Cats' and 'Phantom of the Opera' played to soothe him, a new book claims – Trump has long loved Andrew Lloyd Webber. His staff members used that to their advantage.