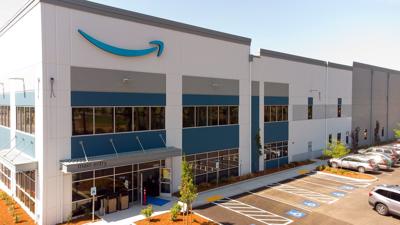 *** REGIONAL NEWS FROM THURSDAY ***
+ South Sound Business: Amazon Opens Lacey Distribution Facility, Adds 1,000-Plus Jobs
+ The Olympian: Providence to host hiring events, offer bonuses to fill openings in Olympia, Centralia
+ JOLT News: Try something new with TRL's Library of Things – Music, birding and multiple outdoor adventure kits expand the concept of library check out
+ McClatchy News: Average PSE customer will see higher electric, gas rates soon. Here's why
+ South Sound Business: Inslee recently signed a proclamation recognizing October in Washington as Manufacturing Month
+ The Olympian: A month of Arts Walk kicks off with weekend street festival – The city of Olympia will close down Washington Street between Fifth Avenue and Legion Way to serve as the center of musical entertainment.
+ The Spokesman-Review (Spokane): Exemption alone won't save state workers' jobs
*** VIRUS NEWS FROM THURSDAY ***
The Olympian: Health workers once saluted as heroes now get threats
Daily Kos: In 'pandemic of the unvaccinated' the U.S. is lapping the world when it comes to COVID-19 deaths [Ed. note: Why, when 70+% of this country has been vaccinated?]
*** NATIONAL NEWS FROM THURSDAY ***
Business Insider: Publishers say some advertisers are 'defunding' their coverage by avoiding climate-related news
MSNBC's Rachel Maddow: 'Credible threat': FBI investigating fire attack on Texas county Democratic Party office Here we go! [Ed. note: Here we go! The war on democracy in 2022 has begun. Fasten your seat belts!]
*** TRUMP NEWS FROM THURSDAY ***
Politico: Lewandowski cast out of Trump operation after allegation of unwanted sexual advances – The former Trump campaign manager lost his role running Trump's super PAC after POLITICO reported allegations a GOP donor made against him.
Associated Press: US general: Afghan collapse rooted in [Trump Administrations] 2020 deal with Taliban
Daily Kos: Insurrection subpoena arrives in Marjorie Taylor Greene's inbox– she scream tweets
MSNBC's Rachel Maddow: In court case, Giuliani shed new light on the Big Lie's origins – Rudy Giuliani confirmed under oath that when he peddled election conspiracy theories, he didn't check to learn whether they were true.