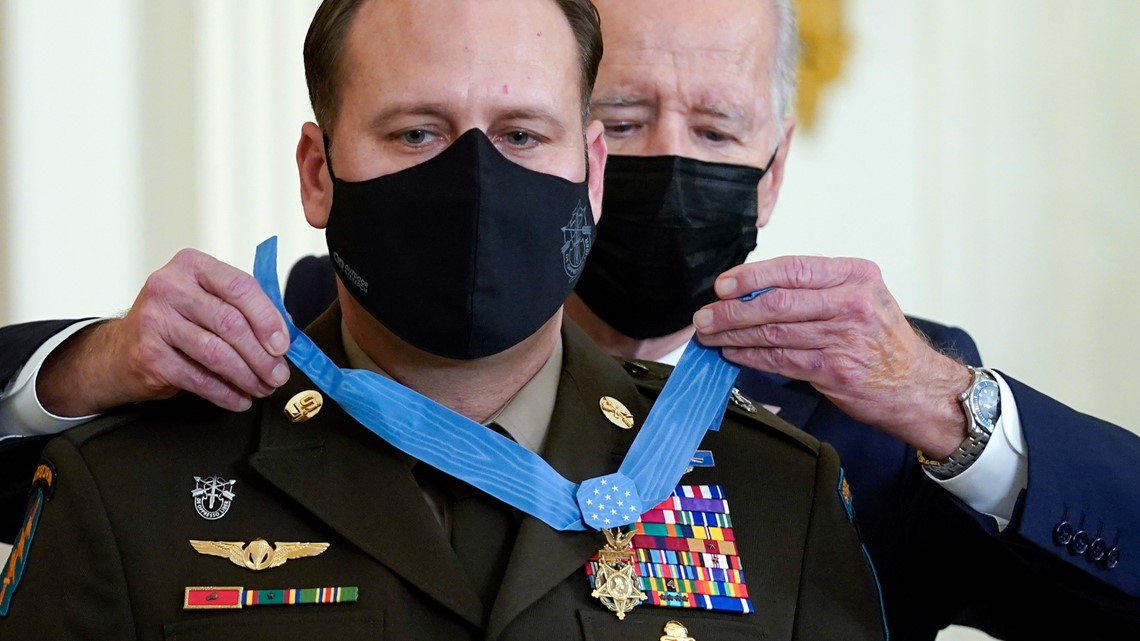 *** REGIONAL NEWS FROM THURSDAY ***
+ KING-5 TV: President Biden awards Medal of Honor to Master Sgt. Earl Plumlee, a Special Forces soldier stationed at JBLM
+ Thurston Talk: Christmas Eve Church Services in Yelm and Throughout Thurston County
+ Office of Gov. Gov. Jay Inslee: Inslee's 2022 budget highlights poverty, climate, salmon recovery and transportation investments
+ Office of Gov. Gov. Jay Inslee: Inslee announces homelessness proposals for 2022
+ The Financial Times (UK): The US system is no match for Donald Trump – As Jay Inslee, a Democratic governor, recently put it: "The American psyche has not recognised we were one vice-president away from a coup."
+ The Olympian: Washington Tribes share these environmental concerns with Biden representative
+ NVN: Farrelli's Pizza Plans to Open New Location in Yelm
*** NATIONAL NEWS FROM THURSDAY ***
NBC: Antarctic ice shelf could crack, raise seas by feet within decade, scientists warn
McClatchy Newspapers: Large concurrent heat waves occur about 7 times more often than in 1980s, study finds
Truthout: Illinois Sets National Precedent in Banning Immigration Detention
TomDispatch: Melting of Ice Sheets Is Dramatic, But Melting of Permafrost Means Mass Death
The Washington Post (subscribers only): A QAnon con: How the viral Wayfair sex trafficking lie hurt real kids – An Internet mob wanted to rescue a 13-year-old girl. Instead, they terrified her, derailed real trafficking investigations and incited 'save the children' violence.
CounterPunch: The Execution of Julian Assange – Assange committed empire's greatest sin. He exposed it as a criminal enterprise. He documented its lies, callous disregard for human life, rampant corruption and innumerable war crimes. Republican or Democrat. Conservative or Labour. Trump or Biden. It does not matter.
*** TRUMP NEWS FROM THURSDAY ***
MSNBC's Maddow Blog: Rep. Jim Jordan now concedes he sent one of the controversial texts to former White House Chief of Staff Mark Meadows ahead of the Jan. 6 attack.
MSNBC Opinion: Mark Meadows' Jan. 6 texts remind us how much we don't know – Fox News hosts can pretend Jan. 6 was no big deal — but we've got receipts now.
The Washington Post: Role as Trump's gatekeeper puts Meadows in legal jeopardy — and at odds with Trump
MSNBC's Maddow Blog: Trump's banker also cooperates with New York investigation – Rosemary Vrablic, a former managing director at Deutsche Bank "who arranged hundreds of millions of dollars in loans to Trump."
CNBC: MyPillow CEO says he is prepared to go broke pushing false pro-Trump election claims
NBC News: Agency overseeing Trump's D.C. hotel lease failed to examine ethical, constitutional conflicts, report says – The General Services Administration "washed its hands of any responsibility" to review whether the emoluments clauses of the Constitution were being followed, the House committee found.