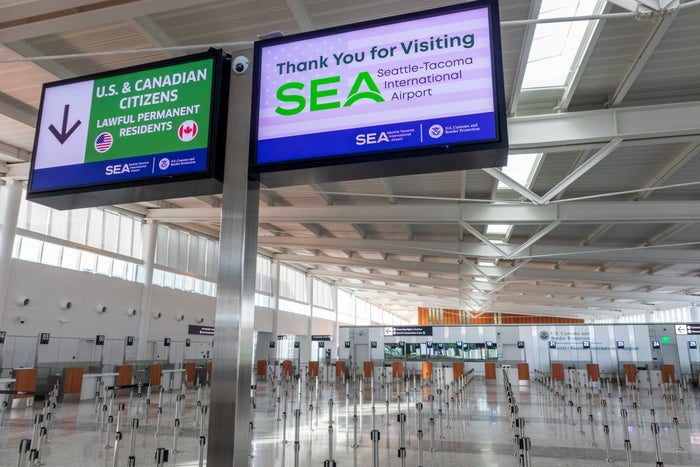 *** REGIONAL NEWS FROM MONDAY ***
+ KING-5 TV: New International Arrivals Facility nearly ready to accept passengers at Sea-Tac Airport
+ The Points Guy: Opening soon in Seattle: A bigger, better and much prettier International Arrivals Facility
+ Delta News Hub: At Delta's Seattle hub, a new experience for international travelers – [Ed. note: Delta offers more international seats from Sea-Tac than any other airline.]
+ The Olympian: Thurston County gas prices even higher than record-high WA prices, near-record national average
+ Airliner Watch: Boeing reportedly to increase production rate of its Boeing 737 MAX Family jets
+The Olympian: Gathering for Ukraine attracts about 150 to WA state Capitol Campus – They waved flags, sang songs and played music in solidarity with Ukraine.
+ McClatchy Newspapers: Costco's Members Get More Loyal; Membership Fee Hike Coming Soon
+ McClatchy Newspapers: The Navy is training for a possible fight with China. Does Russia's war make that more likely?
+ Bellingham Herald: Girl Scout cookies are back. Here's where to find them in Washington state
+ JOLT News: Dealing with health anxiety as mask requirements end in Washington
*** NATIONAL NEWS FROM MONDAY ***
THIS IS ABHORRENT IN A CONSTITUTIONAL REPUBLIC
Truthout: Supreme Court Says Torture at CIA Black Site Is a "State Secret" – The Supreme Court has denied Guantánamo prisoner Abu Zubaydah testimony on his torture at a secret CIA site in Poland.
=====================================
Common Dreams: Ilhan Omar Criticizes Biden Visit to Saudi Arabia Over Oil as "Wildly Immoral"
*** VIRUS NEWS FROM MONDAY ***
The Defender: Saturday Night Live Takes on (Gasp!) Masks and Vaccines – In a skit that aired this weekend, "Saturday Night Live" took on the "incredibly complicated and emotional topic" of masks, showing how quickly a conversation can go from pleasant to awkward when someone suggests public health officials might have been wrong about things like masks and vaccines. Click here for the clip.
McClatchy Newspapers: COVID can shrink the brain as much as a decade of aging, study finds – Even a mild case of COVID-19 can damage the brain and addle thinking, scientists found in a study that highlights the illness's alarming impact on mental function.
*** TRUMP NEWS FROM MONDAY ***
The New York Times: Investigators are looking into the role of Alex Jones, the Infowars host who tormented Sandy Hook families and helped elect Donald Trump, in the Capitol attack.
Truthout: Trump's Pick for Arizona Secretary of State Participated in January 6 Capitol Breach