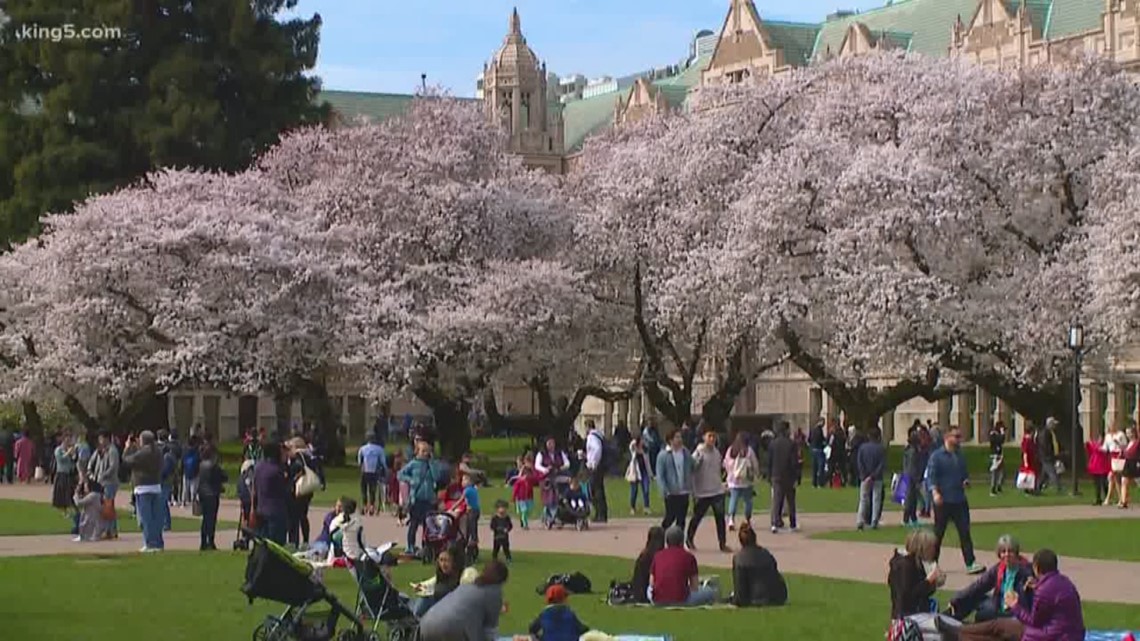 *** REGIONAL NEWS FROM FRIDAY ***
+ KING-5 TV: Peak pink: UW's cherry blossoms set to hit prime bloom mid-March
+ KING-5 TV: Here's where masks will still be required in Washington starting March 12
+ KHQ 6 TV (NBC, Spokane): With historic House vote, Washington joins 9 other states that restrict high-capacity magazine sales
+ The Seattle Times: $7,500 Electric Vehicle Rebates Fail in State Legislature as Climate Proposals See Mixed Results
+ Thurston County Health Officer Dimyana Abdelmalek: Layered Precautions are Key to Avoiding COVID-19 Infection
+ Office of Gov. Jay Inslee: Transformational investments in transportation, housing and climate lead as Legislature adjourns for 2022 – The Legislature adjourned "sine die" Thursday night, ending a short session that realized many of the governor's budget goals
*** NATIONAL NEWS FROM FRIDAY ***
Cynthia Allen, Ft. Worth Star-Telegram: Would Americans fight for their homeland like Ukrainians? A recent poll is discouraging
*** VIRUS NEWS FROM FRIDAY ***
Common Dreams: 130+ World Leaders, Nobel Laureates, Scientists Call for End to Vaccine Patents
The Defender: 1,223 Deaths Reported After Pfizer Vaccine in First 3 Months of Rollout, Documents Reveal
Dr. Joseph Mercola: The U.S. government had a clear duty, enshrined in law, to create a system to detect potential vaccine injuries. If data recorded in the Vaccine Adverse Event Reporting System is useless and unreliable, as fact-checkers routinely claim, then the government broke the law.
The Defender: Fired ER Doctor Tells RFK, Jr. 'We Just Bowed Down' Instead of Practicing Science
McClatchy Newspapers: After 2 years of neglecting medical care, patients are flooding clinics — and many conditions are now dire
The Defender: Hospitals No Longer Required to Report COVID Deaths, HHS Says – Without data, the foundation of scientific analysis, researchers can't draw conclusions, which leaves public health experts unable to accurately make recommendations.
*** TRUMP NEWS FROM FRIDAY ***
NBC News: Michael Flynn testifies in closed-door meeting with Jan. 6 committee
Business Insider: Trump says Putin is 'having a lot of trouble' invading Ukraine because he thought it would be a '48-hour' deal
Truthout: Lawsuit Alleges 3 Lawmakers, Part of Trump Electors Plot, Cannot Run for Office – The lawsuit requests that a federal judge rule that Republican Reps. Tom Tiffany and Scott Fitzgerald, as well as Republican Sen. Ron Johnson, are insurrectionists. All three Republicans represent Wisconsin, and are up for reelection in this year's midterm elections.
Salon: Trump Is Asking His Fans to Pay for New "Trump Force One" Plane
ProPublica: Billionaire-Backed Group Enlists Trump Supporters to Hunt for Voter Fraud – The Voter Reference Foundation is putting voter rolls online while making unsupported claims suggesting election fraud.
Business Insider: Donald Trump barred from countersuing E. Jean Carroll; judge slams his 'frivolous' delays
Axios: Kinzinger says his "biggest regret" is voting against Trump's first impeachment