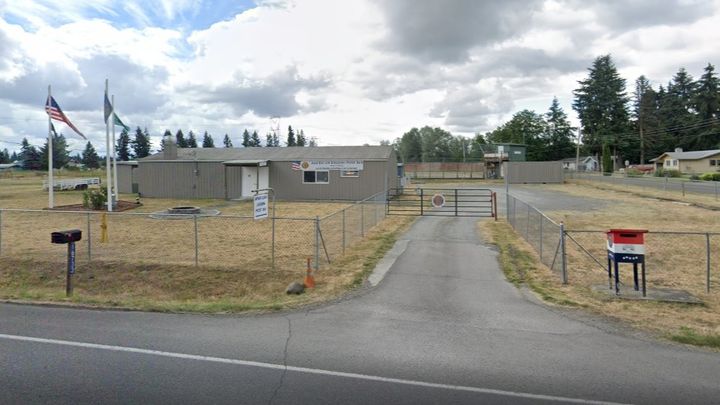 Yelm Veteran Service Office – Post 164 – sets expansion goals
We are raising money for the Expansion of Post 164 with the assistance of the VFW Post 5580 and the community to ensure we can meet the high demands of our disabled veteran community. The Old building will be transformed into a canteen where veterans and their families can enjoy good food and good company. The new building will be over 5700 Square feet with over ten offices for counselors, service officers, and veteran resources and an open area of 3600 sq ft to allow community events and veteran educational classes.
Read more and to donate.
From Mayor Joe DePinto's Facebook post from American Legion Post 164-Yelm:
Yesterday [May 7] we conducted our Cannon Re-Dedication Ceremony at the Joseph Redberg Post 164-American Legion and future home of the Yelm Veterans Service Hub. Thank you to everyone who attended, assisted and supported.
We were devastated when our first cannon was stolen. Not because it looked cool but because of what it represents. It represents security, of watching over our fallen brothers and sisters families. It represents honor, to the fallen men and women of this post and of this Nation. It represents time, as long as one veteran breathes the fallen will be remembered and guarded. We are incredibly thankful to our partners at Norse West Viking Festival for the original cannon and this new cannon! We are grateful to stand side by side for our fallen and their families, each other and our community.
We would like to give a special thank you to Yelm Mayors Office, Mayor Joe DePinto for the consistent support and speaking at this ceremony. To Maj. (ret) Allen Acosta Life, Liberty and the Pursuit of Happiness for his dedication, time, foresight, mentorship and for speaking at this ceremony. To the Boy Scout and Cub Scout Troop 164. To the American Legion Auxiliary Unit 164 Yelm and The Isabel Hay Squadron 164. To Nisqually POST & PRINT and Shine Specialties & Promotions for the banners, big check and plaque. Thank you Quarter Mile Bar & Grill and the Norse West Viking Festival for the donations, support and partnership. Thank you Gendron County Firefighter! Thank you Kirsten Joyce Q13 FOX News and Nisqually Valley News. Finally thank you to all the volunteers who put their time and work into this ceremony.
"For God and Country"