Yelm Community Schools Proudly Reopens Beautiful and Fully Rebuilt Southworth Elementary
From Yelm Community Schools via Thurston Talk:
Yelm is a growing community of devoted and locally-minded residents that is deepening its connection with the Nisqually Tribe. In recent years, many community members were concerned by the state of local schools in the community and sought to bring about total reconstruction of both Yelm Middle School and Southworth Elementary. Thanks to the passing of a bond measure at 64% in 2019, Yelm Community Schools was able to make this dream possible. On Tuesday, September 7, the new Southworth Elementary officially reopened after a year of reconstruction and welcomed students into a brand-new, beautiful, and culturally-connected learning space.
——
A Growing Partnership with the Nisqually Tribe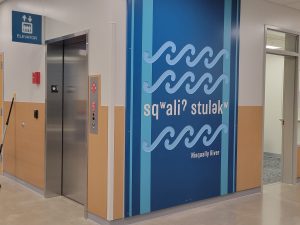 Yelm Community Schools was honored to work alongside the City of Yelm and Nisqually Tribal Council to ensure the rich history in the community was represented in the rebuild. Collaboratively they were able to work with the design team BCRA and incorporate elements of Yelm's history and the Nisqually Tribe's influence into the school for students to easily connect with and learn from. "Our goal at Southworth Elementary was to provide the community with a top-notch learning environment for our kids," shares Yelm Community Schools Superintendent Brian Wharton. "You don't do that by not involving the community and the Nisqually Tribe."
BCRA Principal and Project Manager Heather Hocklander and her team worked diligently to properly capture the essential aspects of the Yelm's history and the Nisqually Tribe and tie them into core themes of Southworth Elementary. The four main things they highlighted in the new school are the salmon, the water, the mountain, and the cedar tree, which can be seen represented beautifully throughout the school. "We built the school for students, teachers and staff to honor the past and support the future with a learning environment that is welcoming and safe, and provides the best value for the community," says Heather. "Our team was honored to be a part of a thread of history of Southworth that is set up to acknowledge the past and create the legacies of the future."
Southworth Elementary
402 W Yelm Avenue, Yelm
360.458.2500