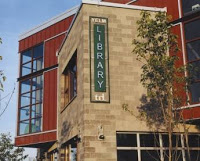 NVN highlights issues with library condo expenses originating 15 years ago
Dear readers;
In the current edition of the Nisqually Valley News (NVN), they look back at key news stories 15 years ago this week (see below).
However, no context was provided as to what the newspaper was attempting to reference.
The Yelm Library Citizens Advisory Board was then Chaired by me, Steve Klein, and met several times in 2007 and 2008 with the then-TRL Executive Director and TRL's Facilities Manager, who guided the Board in their annual report and presentation to the mayor and council on March 25, 2008, about a new library building. I had been originally appointed to this Advisory Board in 2004 by Mayor Rivas, and subsequently voted Board Chair in 2007 by the other Board members.
Click here for that letter to the mayor and council on March 25, 2008.
A selection of investigative reports from this blog about how the 2 most previous mayors and some of their council members ensured Yelm became saddled with excessive library expenses for decades, which can be accessed here:
From the Nisqually Valley News, March 24, 2023 edition:
A Look Back at This Week, 15 Years Ago
• Officials expressed concerns about the fate of the Yelm Timberland Library in a March 2008 letter to the city council. Board chairman Steve Klein said the library was given a 10-year exemption from the city in 2002 to operate in the Prairie Park complex. Klein said he was worried about what would happen when the exemption expired in 2012.