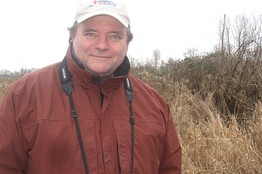 Eatonville resident & The Mountain News Publisher Bruce Smith
Photo credit: Wall Street Journal
Copyright 2012 Dow Jones & Company, Inc.
Bruce Smith's amazing story was featured in a Wall Street Journal story titled:
"If You're Stricken, Minutes Matter, Yet Many Ignore Signs, Delay Treatment"
"Bruce Smith was out for a walk around midnight on Feb. 26 when he felt 'like a grenade had exploded in my chest.'
He knew he was at risk for heart problems. 'I'm a fat guy, and over the years, I've become more sedentary,' says the 62-year-old journalist in Yelm, Wash., though he had been trying to walk more and eat less lately.
But what went flashed through his mind was: 'What is this? What can I do about it? I don't have any money or any insurance.'
He decided to go to sleep and woke up thinking, 'Thank God, I dodged that bullet'" But an hour later, the pain returned, worse than the night before," quoting the Wall Street Journal.
Read more
Read Smith's story in his own words, in The Mountain News.
Click here
On December 9, 2011, Smith published a story on how a Yelm man healed his heart after an attack titled:
"Profile: Anthony Latoski and his efforts to heal a heart attack with focused thought"
Read more from The Mountain News.
Klein has known Bruce Smith for many years and features stories periodically from The Mountain News here on this Blog.