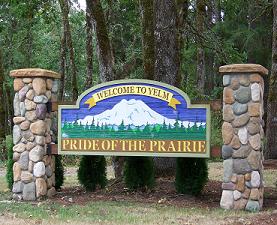 From the City of Yelm website:
– CITY OF YELM TREASURER
"The City of Yelm is seeking a talented and detail oriented individual to serve as City Treasurer in the Finance and Administrative Services Department.
Responsible for accurate day-to-day, quarterly and annual financial operations of the City, following policies in accordance with applicable federal, state and local laws, using accepted accounting principles. Provide technical support on studies and projects and be able to communicate effectively.
Combination of certified education and experience that provides the applicant with the desired skills, knowledge and ability required to perform the job. Two (2) years municipal government experience required.
This is a full time, non-exempt position under the supervision on the City Clerk/HR Manager. Current salary range $52,764 – $63,000 DOQ.
Open until filled. Click on the headline for full job description and City of Yelm application form. Return completed application, resume and letter of interest to: City of Yelm, HR Manager, 105 Yelm Ave W, Yelm WA 98597.
(posted: 7/26/2012)"
Read more
Editor's Note:
Jennifer Hough is no longer with the City of Yelm.
– CITY OF YELM COURT ADMINISTRATOR
"The City of Yelm is seeking a professional and talented individual to serve as Court Administrator in the Yelm Municipal Court. Candidates should possess strong communication, leadership, organizational and management skills. Combination of certified education and experience that provides the applicant with the desired skills, knowledge and ability required to perform the job. Proficient in JIS system required.
This is a full time exempt position under the direction of the Judge. Current salary range $56,993 to $68,052. Open until filled.
Full job description."
– LATERAL POLICE OFFICER
Lateral Police Officer for the City of Yelm. Current salary $4,737 to $5,331 per month, based on current union contract. Minimum qualifications include one year employment with a law enforcement agency within the past 24 months and completion of the Washington State Basic Law Enforcement Academy or equivalency academy. Applicants will go through an application screening process and an oral board interview. Successful applicants will then proceed to a Chiefs interview and a thorough background investigation to include a polygraph, psychological and medical examination. Must be 21 years of age and have received a high school diploma or G.E.D. Applications will be accepted until position is filled. Applications can be obtained and dropped off at Yelm City Hall, 105 Yelm Ave West, Yelm, WA. 98597. There is a $10.00 fee for the application. For additional information contact Gretchen Isaksson, Civil Service Secretary at 360-458-8815 or email gretcheni@ci.yelm.wa.us.
– PUBLIC SERVICE POLICE VOLUNTEER
The Yelm Police Department is looking for part-time volunteers to serve in a non-sworn capacity to assist the department.
Candidates that are accepted into the program will go through training specific to their duties and responsibilities. Training will be just a few evenings over a couple week time period and when completed, will provide the volunteer with knowledge on how to be a valuable resource for the department and the city.
Candidates may serve in the capacity as court room security, identifying parking violations, conducting vacation house checks, providing security in local parks and trails, and possibly court transports of prisoners, to just mention a few.
The ideal candidate would be someone with plenty of free time, that is passionate about the community and wants to serve in a position to give back. Applications can be picked up and turned in at the Yelm Police Department. We are looking for at least 6 qualified applicants prior to the beginning of training. For questions contact the Yelm Police Department at #360-458-5701.
(posted: 6/26/2012)

EDITOR'S NOTE:
As with Yelm's Mayor & City Council seats where there are no opponents, wazzup that the City of Yelm has all of these unfilled positions?
Why the lack of public sector position fulfillment in Yelm?
Hmmm!