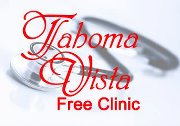 The Yelm/Rainier Free Clinic
WHAT:
Are you interested in the possibility of a free medical clinic in the Yelm-Rainier area?
Representatives from:
start-up agencies
the medical and pharmacy fields
churches
services clubs
public agencies
Company Overview
We are a group of concerned citizens moving ahead with planning a Free Clinic in the Yelm-Rainier area; lets get together and talk about how you and the community can be involved in the next steps," quoting their Facebook page.
Read more
From Bill Elledge:
Summer greetings, free clinic supporters!
Here's a brief update, since I know you all, like me, are preferring to outside these days…
Progress is continuing on firming up our legal status, with the only hurdle still to clear being our IRS non-profit status. Our application has been submitted, and now we just have to wait for approval. With this being completed, the legal committee has been dissolved, and those members are on to other planning and organizational work. What a fantastic job this committee, under Diane Hamilton's leadership, has done!
The operations committee has meanwhile swung into action, with work on selection of an electronic medical record system, familiarization with the Federal Tort Claims Act, and how it will provide us with liability protection, and even (at last!) consideration of clinic hours of service, patient flow and other concrete plans for serving our target population. This really exciting work has been led by our rising star committee chair, Debbie McLean.
The Environmental Scan Committee is also winding down, with final touches being applied to that document, and translating that into our Business Plan. These documents will soon be available for viewing on-line, and you'll all be amazed at the data gathered and the skill with which it's been utilized. I am so proud of the work that committee has done, and I'll single out four people who have really earned my respect: Cindy Cecil, Tom Dewell, Aimee Olivera-Sanchez, and Rory Sagner. Thanks to all of you, and the other committee members who have provided support!
So now it's time to form 2 new committees, and we need your help. First, Sandi Hansen has agreed to chair the Communications Committee. Sandi has years of experience in the communications field, and is an active Rotarian, and I feel very fortunate that she has agreed to add this job to her many responsibilities. She'll need lots of help, so if you have any interest in working on that committee, please contact Sandi at sandi@market4u.com. I know several of you have already expressed an interest, and Sandi will be contacting you about committee organization.
The Finance committee will also be ramping up soon, and if you have an interest in money (anybody??)…either raising it or spending it, we'd really appreciate your help. This is extremely important work, and we obviously can't continue to move forward without effective fund-raising and financial planning. Since we don't yet have a chair for this committee, you can contact me if you want to volunteer, and as soon as we have a chair you'll hear back regarding meeting and activities.
Meanwhile, the Planning team is moving forward with consideration of board of directors selection, following the procedures outlined in our new bylaws, and you'll be hearing more about that within the next few weeks. We're also looking forward to the Washington Free Clinic Association's annual meeting in Tacoma in September. This will give our team an opportunity to network with the Association and other Free Clinics in the state, and we expect to bring home new enthusiasm for our project. If you'd like to know more about this meeting, check the WFCA web site at: wafreeclinics.org.
Just writing this has given me a new charge to my batteries, and I hope it does the same for you. Stay tuned, and thank you all for you wonderful support….