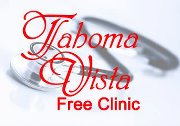 With the recent announcement that Sea Mar will purchase the former Yelm Family Medicine Building with to open a clinic here in 2013 [covered here January 18, 2013], the Tahoma Vista Free Clinic has announced that they will dissolve.
Sea Mar provides "quality, comprehensive health and human services in Washington State."
"More than 90 percent of Sea Mars clients had incomes below the federal poverty level," which is similar to the group Tahoma Vista was aiming to serve.
Tahoma Vista's Dr. Bill Elledge said,
"As some of our team pointed out, the idea of a free clinic in Yelm was born out of a perceived need for medical care for those in need and without access, and the availability of a clinic space from which to meet that need. And ultimately this new and unintended outcome will fulfill that mission: SeaMar will provide that care, and from the very space which we originally planned-and in a much more comprehensive way than a free clinic could ever hope to do. So, though we likely won't be directly involved, the end result is even better than we ever dreamed."
"So now I think it's time to celebrate the coming of SeaMar to the community. This is truly an exciting development, and one that is full of potential. If is some way you all can support their effort as much as you have ours, SeaMar will have a great start in a very welcoming community!"
The Yelm Community Blog congratulates Dr. Elledge and all of the volunteers expending countless hours as a group of concerned citizens who planned to implement a Free Clinic in the Yelm-Rainier area. We are grateful for their efforts.