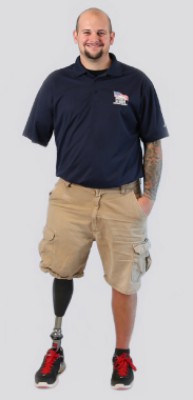 "Homes For Our Troops to kick off building of home for injured Soldier in Yelm, Wash."
From Homes For Our Troops top readers of the Yelm Community Blog:
"The national nonprofit organization, Homes For Our Troops (HFOT) will kick off the building of a specially adapted custom home for Army Sergeant Aaron Boyle on Saturday, May 11, 2019. SGT Boyle lost his right arm and right leg while serving in Afghanistan.
"The Community Kickoff event signifies the start of the build process and will introduce SGT Boyle to the community. The event will be held at New Life Christian Center, 13036 Morris Road SE, Yelm, WA 98597 at 10 a.m. (Check-in begins at 9:30 a.m.) The public is welcome to attend.
"On Sept. 21, 2010, Sergeant Boyle was on patrol in the Arghandab River Valley when he stepped on an improvised explosive device (IED). The blast resulted in the loss of his right arm, right leg, and severe damage to his left leg.
"Now medically retired, Aaron and his wife Lynn are busy raising their three children. He is involved with the local gym and would like to pursue a career as a motivational speaker.
"The home being built for Aaron will feature more than 40 major special adaptations such as widened doorways for wheelchair access, a roll-in shower, and kitchen amenities that include pull-down shelving and lowered countertops. The home will also alleviate the mobility and safety issues associated with a traditional home, including navigating a wheelchair through narrow hallways or over thresholds, or reaching for cabinets that are too high.
"HFOT has built 274 homes since the organization's inception in 2004. Homes For Our Troops relies on contributions from donors, supporters, and corporate partners for the building of each Veteran's home. Community members may hold fundraisers or make donations. To find out more on how to get involved or make a donation visit www.hfotusa.org.
"Read more about Aaron's story and watch his video at www.hfotusa.org/boyle."