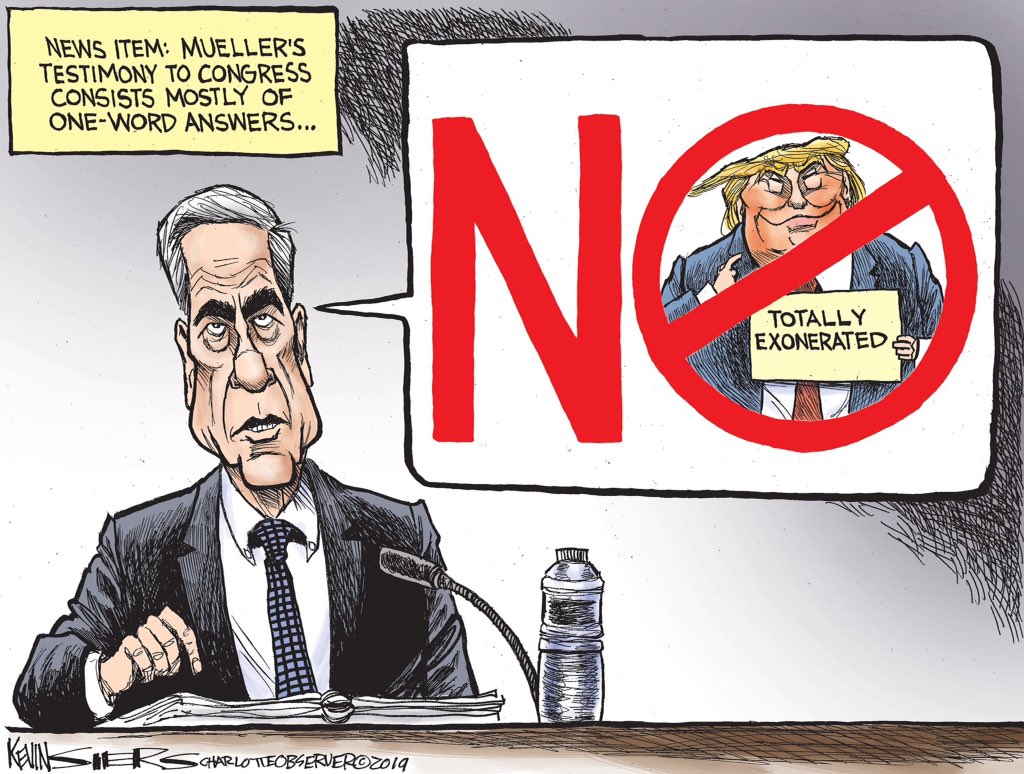 Editor's note: Indictment of a sitting President is not the easy path folks, however this quote from one of America's Founding Fathers reminds us why we must take this course of action!
"Those who expect to reap the blessings of freedom, must, like men, undergo the fatigues of supporting it."
― Thomas Paine
"How Impeachment Works and What You Need to Know About It"
"Some Democrats say opening an impeachment inquiry could help the House overcome the president's blockade of its investigations. But others say that could backfire politically," by Charlie Savage and Nicholas Fandos, The New York Times.
"Why We're Moving Forward With Impeachment"
By House Judiciary Committee members Mary Gay Scanlon, David Cicilline, Pramila Jayapal and Veronica Escobar.
"Three months ago, Special Counsel Robert Mueller completed his investigation into Russian election interference and President Donald Trump's obstruction of justice. When the redacted report finally became available to Congress and the American people, it painted a damning picture of a corrupt president who welcomed and encouraged an attack on our country, capitalized on it, and then tried to cover up what he had done.
"During his press conference announcing the end of his investigation, Mueller pointed out that the Department of Justice believes "the Constitution requires a process other than the criminal-justice system to formally accuse a sitting president of wrongdoing." He was referring, without using the word, to impeachment—a process by which the U.S. House indicts, and the Senate convicts, a sitting president.
"Mueller's testimony before the House Judiciary and Intelligence Committees was a watershed moment," by House Judiciary Committee members Mary Gay Scanlon, David Cicilline, Pramila Jayapal and Veronica Escobar.
"Analysis: Fact-checking lawmakers' claims during the Mueller hearings"
"Over the course of nearly six hours, former special counsel Robert S. Mueller III testified before two House committees. Here's a guide to some of the claims made by lawmakers that were factually shaky or misleading," by Salvador Rizzo, Glenn Kessler, Washington Post.
"Mueller's Skepticism of Trump's Truthfulness Heightens Impeachment Debate"
"Toward the end of Mr. Mueller's nearly seven-hour appearance on Capitol Hill on Wednesday, a freshman Democrat from Florida, Representative Val B. Demings, brought up Mr. Trump's written responses and asked whether 'his answers showed that he wasn't always being truthful.'
"Rather than demurring as he had to similar questions, Mr. Mueller instead appeared to confirm her assessment, responding, 'I would say generally,'" by Charlie Savage, The New York Times.
"Need a 'Blueprint to Remove Trump'? Look at What Puerto Ricans Did in Just 16 Days"
"In less than 16 days, Puerto Rican Gov. Ricardo Rosselló is expected to resign after mass protests. I can't even recall all the horrible shit Trump has done in the last 16 days," by Julia Conley, Common Dreams.
"Were the Mueller hearings a disaster for Democrats? Only if Americans weren't really listening"
"Mueller did not exactly exude charisma, but his testimony before Congress was illuminating when distilled down to the key moments," by Kurt Bardella, NBC News THINK.
"How Trump's 'fake news' rhetoric has gotten out of control"
"What may have begun as something of a reality TV-style parlor trick has mutated into a full-blown assault on the American free press, one that the President apparently can no longer control," by Jim Acosta, CNN.