Reprinted from the RSE-Newsletter.com
Copyright 2013 JZ Knight.
Used with permission.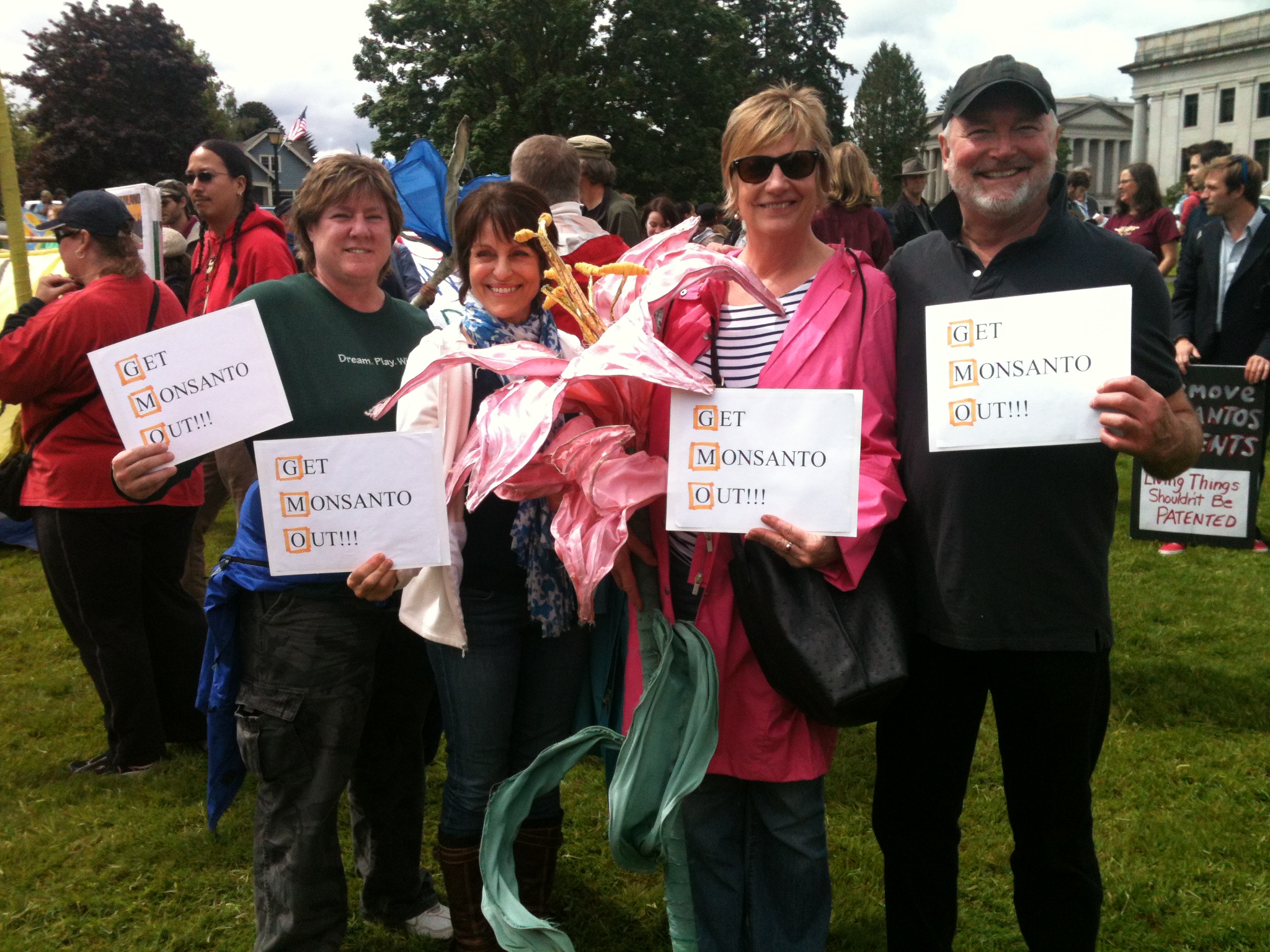 Non-GMO March on Washington's State Capitol campus in Olympia
Yelm residents Debbie Christie, Melissa Peizer, Marita Bott, Gary Craig
Photo courtesy Gary Craig
– "Millions march against GM crops"
"Organisers say that two million people marched in protest against seed giant Monsanto in more than 50 other countries on Saturday [May 24, 2013].
"March Against Monsanto" protesters say they wanted to call attention to the dangers posed by genetically modified food and the food giants that produce it. Founder and organiser Tami Canal said protests were held in 436 cities across 52 countries, quoting the AP in UK's Guardian.
Read more
– Yelm's No GMO March brings local attention to this issue
"Yelm Washington participated with other small towns, cities, and nations around the planet to get the word out about GMO, Monsanto, and the right to know what's in our food! The Triad Theater kicked off the event with a showing of Genetic Roulette and guest speaker Sandra Lee."
Yelm's Triad Theater hosted the local gathering.
Read more
– See the video from Yelm's March Against Monsanto
Click here, by Andrew Wright & Lisa Fitkin of New Leaf Media Group.
Click here for their Photo Album.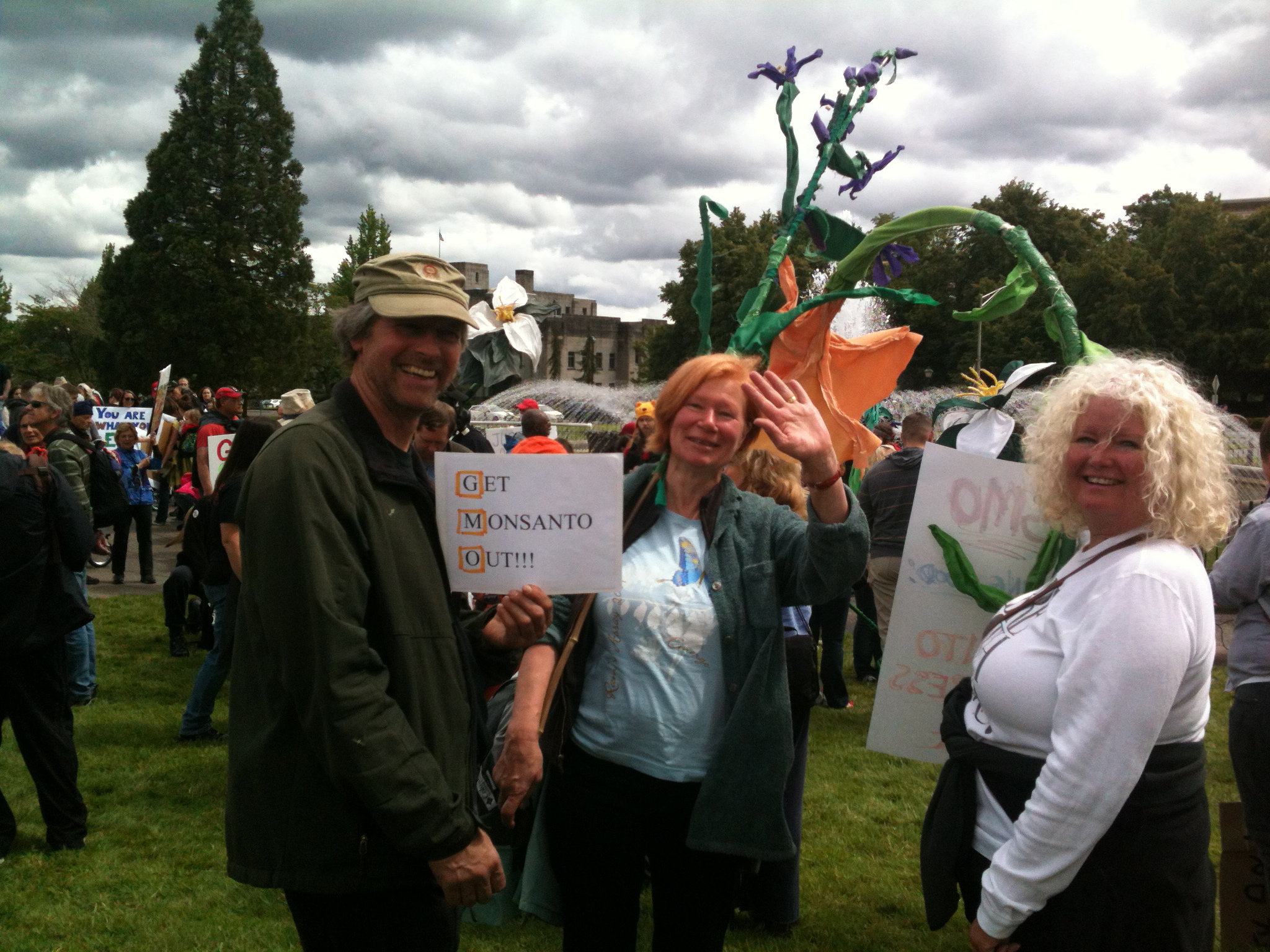 Non-GMO March on Washington's State Capitol campus in Olympia
Yelm residents Thomas Mani, Karla Broschinski, Sharon Olson
Photo courtesy Gary Craig
– Washington State's Initiative I-522
Read more
– GMOs
Read more
– "Monsanto Protection Act May Soon Be Repealed Thanks to Activism"
From Anthony Gucciardi for Natural Society.
Read more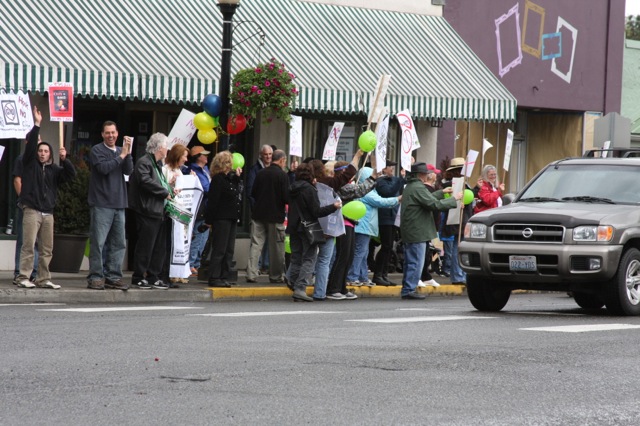 Non-GMO March in Yelm, sponsored by The Triad Theater
Photo courtesy: New Leaf Media
UPDATE: June 6, 2013
"Monsanto: Contamination By All Means Necessary"
By Colin Todhunter, Countercurrents.org
Read more
Blog writer Klein is in his 28th year as a student of Ramtha's, has been employed by JZ Knight for 10 years and a resident of Yelm for 25 years.