Logo courtesy: Yelm Business Assn.
1. Yelm Business Assn's. (YBA) 2nd General Meeting Jan. 13th
The Yelm Business Association hosted Thurston County Economic Development Council Deputy Director Renee Sundee for their second General Meeting, at Yelm's Triad Theater on Tuesday, January 13th. The open-to-the-public meeting had a wide variety of business owners present to hear Ms. Sundee say,
"Yelms location between Seattle and Portland, and its proximity to Joint Base Lewis-McChord (an estimated 35 percent of Yelm Community Schools student population comes from military families), means this area will continue to grow, perhaps by 40 percent in the next two decades.
'Yelm is the fastest growing city in Thurston County,' she said. 'Theres no doubt that growth is going to happen.'"
"Dan Crowe of Crowe Law told YBA members about a positive meeting with the Yelm Area Chamber of Commerces new Executive Director Casey Cochrane, noting that the YBA has more of an advocacy position where the chamber has more of a marketing and networking position.
'The Chamber of Commerce is completely on board with what our mission is,' Crowe said," quoting Jenna Loughlin, Nisqually Valley News.
Read more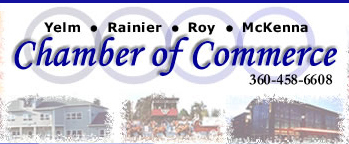 Logo courtesy: Yelm Chamber of Commerce
2. Yelm Business Assn & Yelm Chamber co-host speaker
Casey Cochrane, Executive Director of the Yelm Chamber of Commerce and Dan Crowe, Executive Director of the Yelm Business Assn. introduced themselves as each organization co-hosted a noon function for our city's businesses on Thursday, January 15th with featured speaker George Sharp, Executive Director of the Olympia Lacey Tumwater Visitor and Convention Bureau (OLTVCB), the official Destination Marketing Organization (DMO) for Olympia, Lacey, Tumwater and Thurston County, Washington.
Mr. Cochrane announced to the meeting that he is on the OLTVCB Board and along with Mr. Crowe, they corroborated to co-sponsor this event as an "advocate for [Yelm area] businesses on all levels."

George Sharp
Photo courtesy: OLTVCB
Mr. Sharp presented a 15 point questionnaire for each business to fill in the blanks to key questions titled:
"How to attract and keep Visitors in Your Yelm Business and Community"
One of the key points Mr. Sharp made was that "it's about the experience" for tourists and that if we build a community our residents like, word will spread out as Yelm being a great place to be."
He suggested everyone look at what our residents and visitors see – look from their point of view.
[As an example, residents are so immune to seeing run-down houses on entry to Yelm that they no longer notice, yet our city's visitors take note.]
Bottom Line, summing-up this week's business meetings:
"You cant really do economic development if you dont have strong public/private relationships.
You can try to do that (create a business culture) alone with the private sector, which we do, but you really cant do it effectively unless you have jurisdictions and partners really working together well to create a culture that is really strong for private sector business to thrive."
Thurston County Economic Development Council Deputy Director Renee Sundee
The Yelm Chamber and Yelm Business Assn. are partners.
Now, the City of Yelm really needs to step up and join our local business organizations to let the world now, "Yelm is open for business."

– "Regional Tourism Expert Speaks at Joint Chamber/Yelm Business Association Meeting"
"'I think its important that tourism and attraction of people to our area is a regional priority and that we work in concert with other organizations here in Thurston as well as Pierce and Lewis counties,' Cochrane said."
Read more from the NVN.
– "Collaboration Is the Model of Yelm Chambers New Director"
"Casey Cochrane Brings 25 Years of Community, Government Relations Experience to Position"
Read more from the NVN.
Yelm Community Blogger Steve Klein is on the Board and a founding member of the Yelm Business Assn.